At the 2018 UBC Okanagan Learning Conference, keynote speaker, Robert Talbert talked about the rights of students, based on the work of Crystal Kalinec-Craig. Student have
the right to be confused
the right to make mistakes and revise one's thinking
the right to speak, listen, and be heard
the right to write, do, and represent what makes sense to you
Robert's particular take on these rights is how the physical learning space can promote (but more often, restrict) these rights. Simple example: in classrooms where the seats have built-in tablets, left-handed people have to sit in special lefty-seats, usually along an aisle or against the wall. They can't sit with their peers and can't choose to be inconspicuous in the middle of a big block of seats.
Robert gave another example that caught a lot of conference attendees' attention: despite a course instructor's pleas to their student to come to office hours, faculty offices are rarely welcoming spaces for students. If a student can overcome the apprehension and anxiety of the clutter and the feeling like they're invading their instructor's living room, the typical office does not permit active, collaborative learning. The instructor sits in a big chair on one side of a barrier — their big ol' desk — and talks at the student sitting on the other side of the desk in a crappy chair.
He teased us with some new office designs and furniture that create a welcoming, collaborative learning space. I mean, who wouldn't want an office like this, right?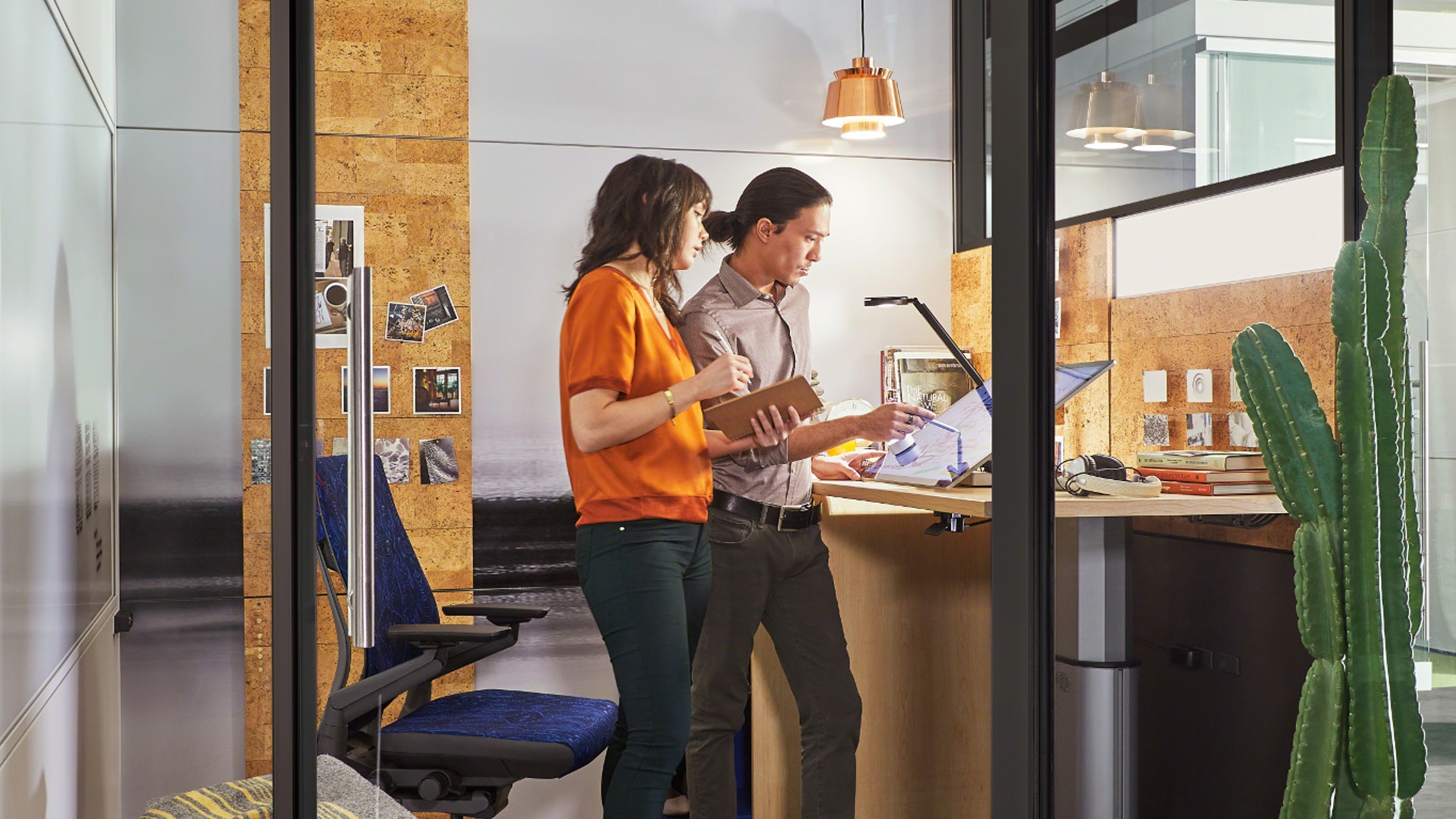 A number of UBC Okanagan faculty spoke to me after the conference, wondering how they could renovate their offices. All it would take, it seems, is a few $1000. But who has that kind of money to spare – certainly not the instructors, themselves.
I'm on an learning spaces advisory committee and I pitched an idea: a competitive grant program where each year, say, 5 faculty members could receive up to $3000 to renovate their office. Let's call it a FOALS grant:
The advisory committee said, sure, take it to Deans' Council and see what they say. Whew, passed the first hurdle. Or keeping with the horsey theme, cleared the first jump.
Fast forward 2 weeks.
The meeting went something like this:
Ha ha ha ha! Nope.
No, seriously, this is a great group of people to work with and they give me some good feedback and legit reasons why they were laughing:
It's hard to justify an expense that doesn't have a clear connection to the core teaching and learning mission of the university.
This would introduce even more inequity into an culture that's steeped in seniority, status, who has a window, and whose office is next to the washroom.
What happens when someone move offices? Is the new furniture theirs to move? Does it stay with the room (which is probably would if the reno includes big whiteboards.)
So, while FOALS won't be coming to UBC Okanagan any time soon, it sparked some ideas that might:
Deans could bring this idea into conversations with new faculty members when they're talking about start up funding and opportunities.
focus on shared spaces like atriums, foyers, open spaces at the ends of hallways: if those spaces had whiteboards, work surfaces, wall-mounted monitors the instructor and students to jack into, comfortable task seating,… course instructors could hold "office" hours there with groups of students
there might be some smaller, affordable items faculty could purchase on their own – if only someone would source good stuff at good prices. (Psst – I think I've got a line on Steelcase's awesome verb whiteboards.)
Let's see where it goes from here!